Lecterns
Stronglite's range of lecterns for sale are ideal for conference centres, event centres, auditoriums, lecture theatres & Audio/Visual conferences. We take the complications out of presenting so you can focus on your delivery.
Pro Series
A simple, elegant Lectern that ticks all the boxes.
Can be supplied wired for microphones or reading lights, and has a large shelf for storage. These lightweight lecterns offer adjustable feet to allow sure footing on uneven surfaces; can be fitted with wheels for easy transportation.
Velcro receptive front panel for easy attachment of banners and logos.
Standard Lectern Details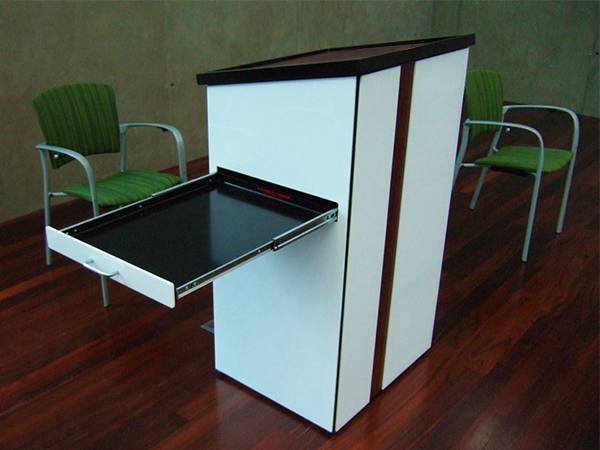 Audio/Visual
The ultimate media presentation tool.
Features pull out drawers for laptops to sit open on, a spacious internal shelf, and internal wiring for microphones and lights.
Unobtrusive wheels allow this lectern to be moved with ease.
Audio/Visual Lectern Details
Custom
Chances are you've got something special in mind for your lectern. Whether that be a certain aesthetic, extra storage, or a touch-screen for controlling the lighting/audio of your presentation space, contact us with your requirements and we'll build you the lectern you've always wanted for your next event!
Explore your options!